MapQuest: Directions, Maps & GPS Navigation
3.21.0
A Very Useful GPS Navigation App
The rise of internet has truly transformed every walk of life. Finding new places and going to new places was such a different experience even a decade ago when GPS and navigation apps were not so common. You would have to look at physical maps, use the directions offered on signboards and talk to local people in order to find the destination. However, with Google Maps and other GPS navigation apps, you can get to any place you want with just your phone and an internet connection. If you have the right address, these apps will guide you to your destination by charting out the shortest route that will take the least time. There are a number of Maps and navigation apps available but each app tries to offer something unique to make it standout as well. MapQuest is one such GPS navigation app that offers multiple features to help it standout.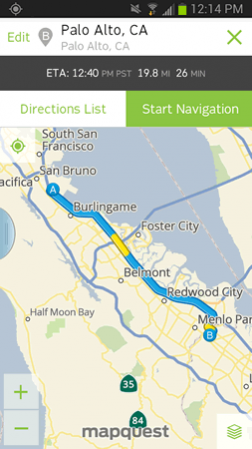 MapQuest is easy to download and install and is often referred to the alternative for Google Maps. Google Maps comes with every Android phone and is such a fantastic staple that people normally do not look towards other apps for navigation. However, users who cannot afford the burden Google Maps puts on phones, apps like MapQuest can do a good job. MapQuest is lightweight as compared to Google Maps and this is one of the reasons people normally prefer using it on phones with smaller RAMs and memory options.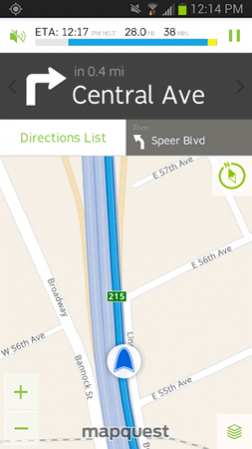 The app is easy to install and has a beautiful and eye-catching interface. The maps are detailed and the resolution of images is great. The multi-layered display means that you can get a good idea of the nearby locations close to your destination. This can help in navigation as you can visually confirm a few things on the way while it can also help if you want to pick up something along the way or if you want to know the places you can visit after you reach your destination.
The GPS navigation app's main feature is the sturdy and solid voice navigation feature. The feature offers turn-to-turn instructions very clearly and is great at re-routing quickly in case of traffic buildup or supposed accident. This is great as it allows you to never take your eye off the road while the voice navigator keeps you on the shortest path to your destination. The app also allows a multi-stop route that is very useful if you need to go along a certain route and hit multiple locations in one drive. The option of bookmarking locations is also great as it allows you the chance to easily find routes to your bookmarked places with a touch of a button. The gas station finder is also a useful option though the fact that it works only in the US is somewhat frustrating for people who use the app in other parts of the world.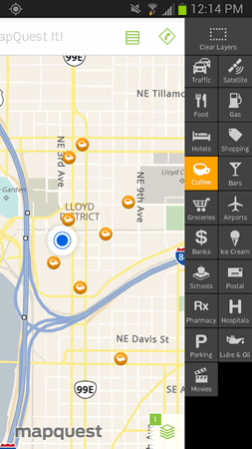 The app's design is another fantastic draw as its navigation bar and layer option is great. The navigation bar shows the ETA in a stylish manner while the layer icon opens up an entire menu from where you can find hotels, bars, airports, cinemas etc. with ease.
Features:
Stylish, clean and eye-catching design
Brilliant voice navigation feature which provides on-time instructions for following a set route
Great re-routing option that changes the route if any changes occur in the traffic situation
Nice and easy to find restaurants, bars, gas stations nearby with a simple touch on the screen
Conclusion:
MapQuest is a solid and useful GPS navigation app that offers a great alternative to people who do not like Google Maps or cannot use Google Maps for one reason or another. The app has fantastic features but would be able to truly compete with Google once it offers offline navigation as well.
---
Add a review
Tell us your experience with
MapQuest: Directions, Maps & GPS Navigation
3.21.0
RELATED PROGRAMS
Our Recommendations
---
---
---
---